Collaboration between Cuerva and ZGR Corporación improves the quality of electric power supply for the residents of Jayena
The lithium battery storage solution by ZGR Corporación installed at the transformer substation (TS) in the town of Jayena enables Cuerva to provide more flexible energy distribution in the area, regulate power, voltage and frequency to provide a higher quality of electric power supply and ensure service even in the event of incidents or faults in the area.
Granada, 18/04/2023. Cuerva and ZGR Corporación entered into a collaboration agreement last year to provide energy support to rural areas with grid connection problems. As a result of this collaboration, the partners developed an energy storage project using lithium batteries that ensures the electric power supply and improves grid quality in the municipality of Jayena in the province of Granada.
Specifically, the solution implemented by ZGR in the transformer substation known as Pueblo Jayena 2 is based on a ZGR BESS system, that includes a bidirectional charger (150-kW ZGR PCS GRID), a lithium battery storage system and a comprehensive control system among other components.
The new system optimises energy management and enhances the quality of the power supply provided by the transformer substation by means of a series of control signals and variables. The system enables regulation of power, voltage and frequency of the electrical current. It also enables management of battery charging and discharging and ensures smart, automated energy distribution according to variables and needs at any given time.
This enables communities like Jayena that are at the end of the power line to access a higher quality of supply.
The system is capable of providing uninterrupted electric power for up to two hours even in the event of a grid outage. The measure has been adopted to ensure reliable, stable electric power supply that has a negligible impact on service continuity and therefore on end users.
Advanced energy storage technology
Thus it constitutes a notable technological breakthrough that supports the grid in contingencies and disturbances, contributing to its stability and providing support for electrification of isolated communities where Cuerva is the designated electricity distributor.
According to Miguel Ángel Pérez, head of the project at ZGR Corporación: "We have implemented advanced electronic power solutions by developing both smart grids and clean technologies and by installing state-of-the-art electronic equipment that meets our needs as a company and enables us to be more efficient in management of electrical networks in rural environments."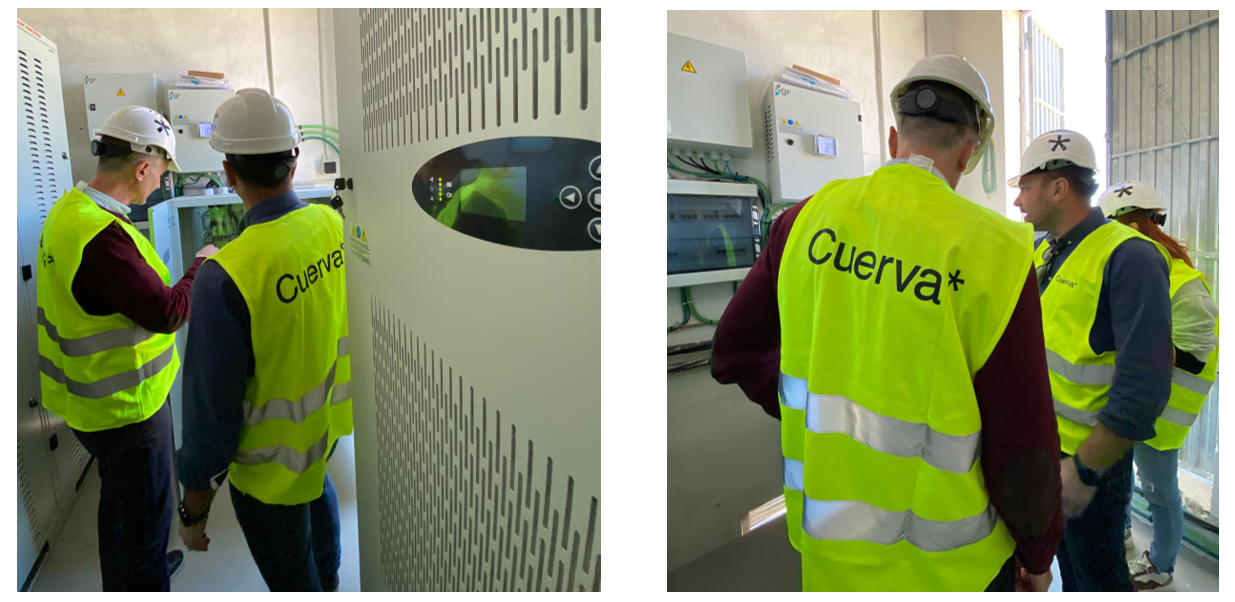 Juan L. Guerrero Jiménez, Cuerva's Network Services Manager, highlights the fact that "this project is another step forward in our commitment to provide greater flexibility to our electrical infrastructures, to make them more resilient and to provide higher quality services and supply to our customers even in isolated rural areas while improving the sustainability of our systems. It positions us at the leading edge for smart electrical grids."
Assurance of supply even in the event of a fault
Apart from compensating for voltage variations in the grid, the ZGR BESS system has another very important function; to work in island mode. As its name suggests, this means that in the event of a grid failure, the battery has the capacity to autonomously provide power to the community for at least two hours, thus allowing time to repair the network and resume supply from the grid.
In conclusion, Domingo Chinchilla Sánchez, Head of Network Planning and Development at Cuerva, states that "this storage system is cleaner, more cost-effective and efficient than construction of traditional assets."
The importance of cooperation in the energy value chain
The project is a good example of ZGR Corporación and Cuerva's joint commitment to transforming the energy sector. Collaboration among all energy chain stakeholders is crucial at a time of energy transition when electrification of the economy sets the new pace.
According to Miguel Ángel Pérez from ZGR Corporación, "ZGR's power electronics expertise together with Cuerva's knowledge of the electricity market enable us to develop services and solutions with added value for users of electrical grids in rural areas in the province of Granada."
Furthermore, Cuerva's team is convinced that grid storage systems must be fully integrated components to ensure safe, reliable operation of the distribution network. Only in this way can we avoid the construction of electrical infrastructures with a greater environmental impact.
Cuerva distributes more than 100 GWh of energy per year as part of its electricity distribution business, providing access to electricity for around 50,000 people in hard-to-reach areas. To optimise the supply and maintain its high quality levels, Cuerva works with a data volume of 5,100 GB integrated into its systems that enables smart-grid management in real-time. Furthermore, our extensive track record, significant investment and constant innovation in our distribution areas are reflected in our fully-integrated electrical generation and distribution infrastructures: 3 substations, 450 smart transformer substations, 400 km of HV lines and over 500 km of LV lines.
ZGR Corporación has been awarded main-supplier contracts for direct-current chargers with various major companies, making it one of the main manufacturers of DC equipment and a benchmark in electrical storage solutions.
Descarga la nota de prensa en PDF aquí